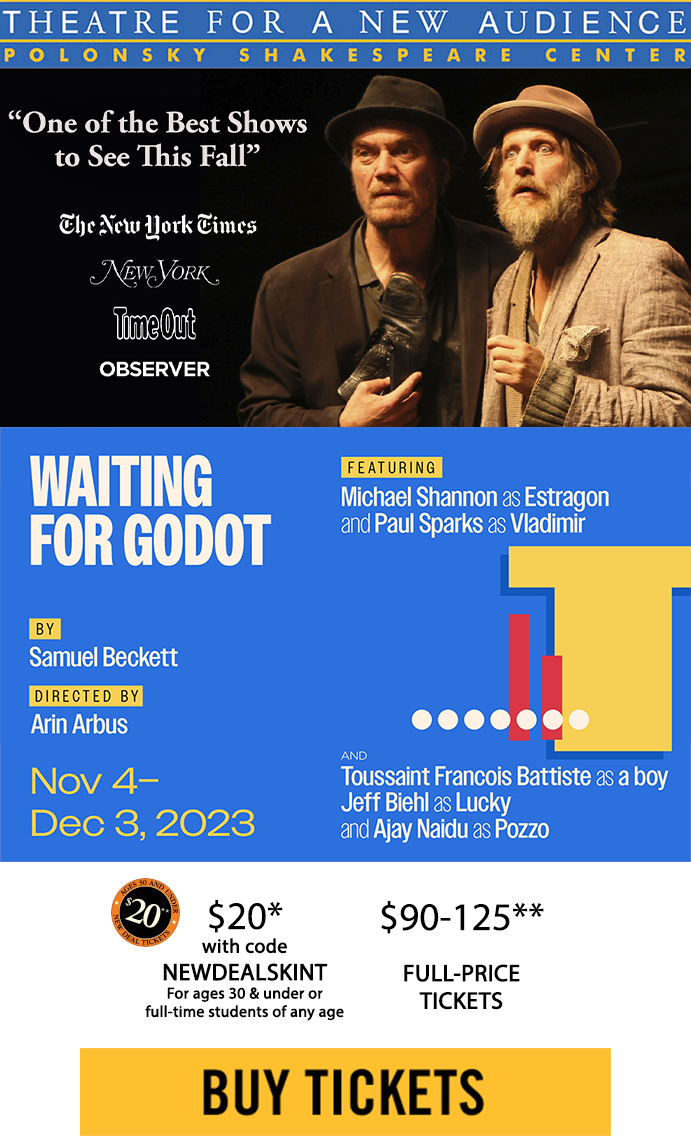 Design by Paul Davis Studio / Mo Hinojosa
Photo of Michael Shannon and Paul Sparks by Hollis King
GET A NEW DEAL TICKET TO ANY PERFORMANCE FOR JUST $20!*
If you are 30 years old or under OR a full-time student of any age, you can purchase a $20 New Deal ticket (up to $90 value). Choose your seat, choose ticket type New Deal (change from Standard), and use promo code NEWDEALSKINT. ONE ID PER TICKET, FOR OTHER ELIGIBILITY REQUIREMENTS – SEE BELOW.
GET TICKETS AT TFANA.ORG
WATCH MICHAEL SHANNON AND PAUL SPARKS DISCUSS THEIR FRIENDSHIP.
"I once saw its stars, Michael Shannon and Paul Sparks, crack each other up onstage so hard that they had to hide under a blanket. If you think a little existential dread will make them behave, I've got a tree and a moon to sell you." – The New Yorker
Since their first appearance in a tiny Paris theatre in 1953, Samuel Beckett's iconic down-and-outs Vladimir and Estragon have rarely been off the stage. Nearly every evening, somewhere on the globe, they show up for their dubious appointment with a savior named Godot who never comes, filling time with games and musing aphoristically on existence. Hilarious and heartbreaking, Waiting for Godot is the modern theatre's indispensable document of rootlessness, uncertainty, and perpetually postponed deliverance.
Godot will be directed by Arin Arbus (Resident Director, TFANA) whose critically acclaimed productions for the company include her OBIE Award-winning staging of Thornton Wilder's The Skin of Our Teeth. This production will reunite actors Michael Shannon and Paul Sparks, who last worked together for TFANA in Ionesco's The Killer, directed by Darko Tresnjak in 2014.
Polonsky Shakespeare Center: 262 Ashland Place, Brooklyn, NY 11217
* Each New Deal ticket holder must be 30 years of age and under, or a full-time student. A valid ID proving eligibility must be presented for each ticket purchased. IDs must be presented at entry beginning two hours prior to curtain. Failure to show proof of age or student ID will result in a surcharge for a full price ticket.
** All internet and phone orders are subject to handling fee. All sales are final, no refunds.
Box Office hours are Monday–Saturday, 1–7pm and it can be reached at 646-553-3880 or tickets@TFANA.org.
Face masks are encouraged, but not required.
Click here to learn more about our updated health protocols.
Click here to learn more about our revised policy on refunds and exchanges.
Endowment support for this production is provided by The Howard Gilman Foundation Fund for Classic Drama.
Deloitte and Bloomberg Philanthropies are the 2023-2024 Season Sponsors.
Principal support for Theatre for a New Audience's season and programs is provided by the Bay and Paul Foundations, the Howard Gilman Foundation, the Jerome L. Greene Foundation Fund in the New York Community Trust, The SHS Foundation, The Shubert Foundation, and The Thompson Family Foundation.
Theatre for a New Audience's season and programs are also made possible, in part, with public funds from the National Endowment for the Humanities; Shakespeare in American Communities, a program of the National Endowment for the Arts in partnership with Arts Midwest; the New York State Council on the Arts with the support of the Office of the Governor and the New York State Legislature; and the New York City Department of Cultural Affairs in partnership with the City Council.
sponsored post