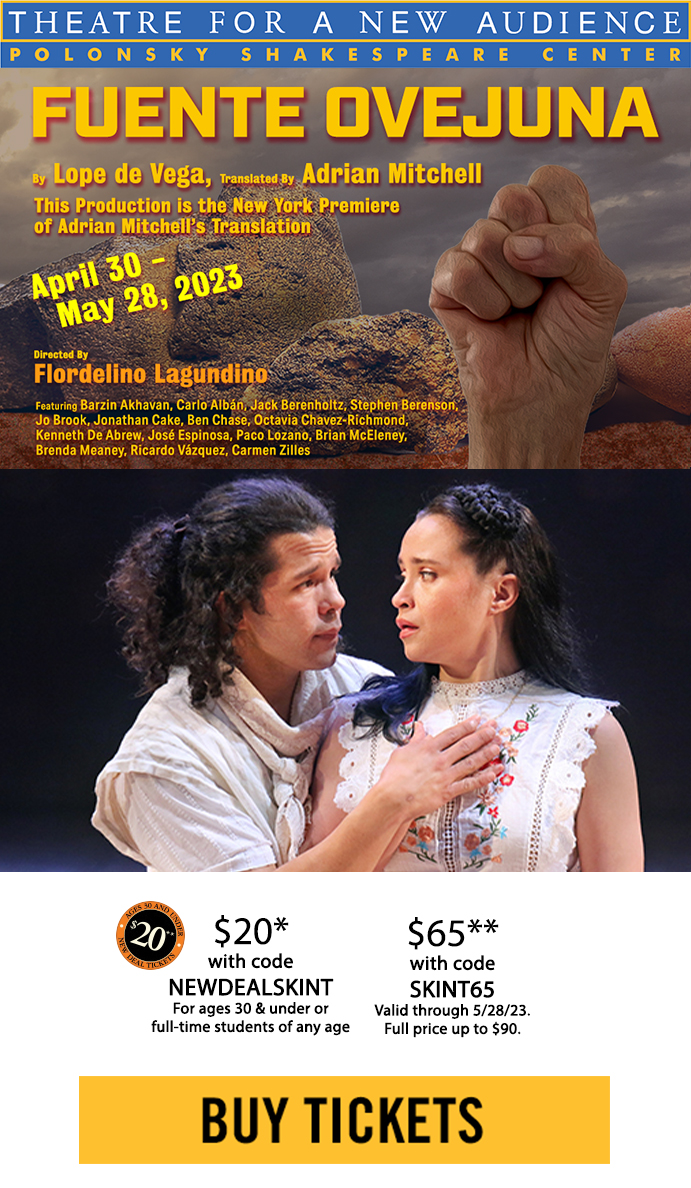 Art © Paul Davis.
Photo credits: Carlo Albán as Frondoso, Carmen Zilles as Laurencia. Photo by Gerry Goodstein.
GET A NEW DEAL TICKET TO ANY PERFORMANCE FOR JUST $20!*
If you are 30 years old or under OR a full-time student of any age, you can purchase a $20 New Deal ticket (up to $90 value). Choose your seat, choose ticket type New Deal (change from Standard), and use promo code NEWDEALSKINT. ONE ID PER TICKET, FOR OTHER ELIGIBILITY REQUIREMENTS – SEE BELOW.
SINGLE TICKETS AVAILABLE FOR ANYONE FOR $65** WITH CODE SKINT65!
GET TICKETS AT TFANA.ORG
Lope de Vega, an astonishing author from the Spanish Golden Age, wrote his masterpiece, FUENTE OVEJUNA, in 1612. A powerful mix of music, singing, dance, humor, and unforgettable drama, Lope was inspired by a historical incident: farmers and peasants of the village of Fuente Ovejuna in Castile rose up against a military commander and his soldiers who raped the women and oppressed the villagers.
For his play, Lope de Vega created Laurencia who inspires the peasants of Fuente Ovejuna to revolt against tyranny and abuse. Laurencia has become one of the greatest female characters in world drama and her stirring words have rung out for centuries. And, though he wrote long before America's Declaration of Independence, the French Revolution, the 19th Amendment to the U.S. Constitution and today's #MeToo movement, some of the themes of FUENTE OVEJUNA are feminism, sexual violence, class, collective resistance, and human rights.
Polonsky Shakespeare Center: 262 Ashland Place, Brooklyn, NY 11217
* Each New Deal ticket holder must be 30 years of age and under, or a full-time student. A valid ID proving eligibility must be presented for each ticket purchased. IDs must be presented at entry beginning two hours prior to curtain. Failure to show proof of age or student ID will result in a surcharge for a full price ticket.
** $65 ticket discount offer expires 5/28/2023. Full price up to $90. Subject to availability. All internet and phone orders are subject to a handling fee. The offer may be discontinued at any time. Not valid for previous purchases.
Box Office hours are Monday–Saturday, 1–7pm and it can be reached at 646-553-3880 or tickets@TFANA.org.
All patrons will be required to wear a face mask while inside the theatre.
Click here to learn more about our updated health protocols.
Click here to learn more about our revised policy on refunds and exchanges.
"Fuente Ovejuna (Mitchell)" is presented by arrangement with Concord Theatricals on behalf of Samuel French, Inc. www.concordtheatricals.com
This production of Fuente Ovejuna is made possible, in part, by an award from the National Endowment of the Arts.
The production and programming of this production of Fuente Ovejuna is supported by the Consulate General of Spain in New York.
Endowment support for Fuente Ovejuna is provided by The Howard Gilman Foundation Fund for Classic Drama.
Deloitte and Bloomberg Philanthropies are the 2022-2023 Season Sponsors.
sponsored post