tuesday
thru 9/2024: new high line art: pamela rosenkranz's old tree: the high line unveils its latest plinth commission, swiss artist pamela rosenkranz's old tree. resembling the branching systems of human organs, blood vessels, and tissue, the bright red and pink 25-foot-tall tree-shaped sculpture invites viewers to consider the connection between human and plant life. the high line at 30th street and 10th ave, free admission. >>
sponsored: thru 5/21: we were promised honey! two weeks only: after sold-out, critically-acclaimed runs in edinburgh and london, sam ward's we were promised honey! arrives in new york city for its us debut. from multi-award winning performance company yesyesnono comes an act of communal storytelling. a hopeful, hopeless prophecy for earth and humankind. a story of us, our future, of paradise and how we get there in the end. 59e59 theaters, use code 'skint' to snag $15 tickets (reg. $30. standard service fees apply.). >>
tues + weds julia wertz: impossible people: a completely average recovery story: cartoonist julia wertz discusses her new graphic memoir impossible people, which chronicles her haphazard attempts at sobriety and the cycle of addiction and recovery, at two in-store events: word bookstore in greenpoint with ariel schrag (tues 7pm) and bluestockings in the les with emily flake (weds 5:30pm). free admission (books will be available for purchase).
tues 7pm: the female gaze: spring cleaning edition: in this sendup of the view, a panel of more than a dozen female-identifying comedians and improvisers will gather to shout out their opinions on the topics of the day. tonight's show will feature the 'trash queen of hell's kitchen,' catie savage. caveat (les), $15 adv, $20 door. >>
tues 7pm: regina opera: romberg's the student prince: ahead of this weekend's ticketed performances, regina opera will present a free, fully-staged performance of sigmund romberg's the student prince at our lady of perpetual help auditorium (sunset park). tonight's performance, sung in english with english supertitles, will be presented with piano accompaniment. >>
tues 8pm: hannah pilkes 'n' pals: comedian hannah pilkes (vulture's 'comedians you should and will know') is joined by larry owens, richard perez, jon rudnitsky, and esther fallick for a night of laughs at littlefield (gowanus). $10 adv, $15 door. >>
tues 8:30pm (weekly): just come! comedy show: pamela ross, nolawee mengist, colleen genevieve, and kendall farrell bring the laughs back to east williamsburg with standup by dan fitzpatrick (the new yorker), dylan adler (vulture), calvin cato (oxygen), frank deruggiero, and mandal. the graham (east williamsburg), free ($10 suggested donation). >>
tues 8:30pm (weekly): i made you a playlist: stand-up meets after-party at this weekly comedy show and dance party, hosted by kelly bachman and jaffer khan. tonight's show features emily panic, john rosenberger, dan yang, glorelys mora, max bruno, and aaron mccann. the three diamond door (bushwick), free admission. >>
sponsored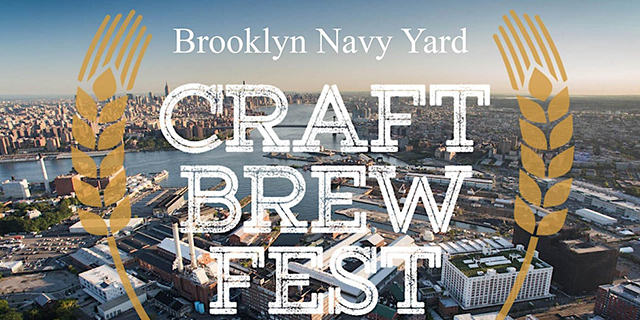 The Brooklyn Craft Brew Fest is a perfect opportunity for beer enthusiasts to meet and hang out with friends and enjoy a huge variety of local and international beers!
Beer Fest is your all access pass to new beers from around the world. Guests will enjoy beer samples for the session paired with live entertainment, food and interactive games.
Sample beer all session long. It's a great place to discover new craft brews and speak to brewers. Beer Fest will also feature amazing vendors to purchase everything from CBD to jewelry and more.
Special offer for the skint readers:
Save 40% on advance tickets with promo code THESKINT
GET TICKETS NOW!
Brooklyn Craft Brew Fest
Saturday, May 13
Session 1: 1-4:30pm
Session 2: 6-9:30pm
Brooklyn Navy Yard Building 77 Waterfront Promenade
141 Flushing Ave, Brooklyn, NY 11205
21+ Only
wednesday
weds thru 9/1: healthy on the hudson: free outdoor hiit, yoga, and meditation classes return to the hudson river waterfront piers. registration is required (rsvp opens up a week in advance). >>
weds thru 7/31: andy warhol exhibition: thirty are better than one: the brant foundation presents thirty are better than one, an exhibition of over 100 drawings, polaroids, silkscreens, and sculptures by andy warhol. the title of the exhibition takes its title from warhol's 1963 silkscreened images of da vinci's mona lisa. the brant foundation (east village), $20 general, $18 seniors, $15 students. >>
weds thru 6/21: 'light and sound' downtown: the alliance for downtown new york unveils 'light and sound,' the latest series of its art is all around campaign. the program will bring two interactive and illuminative public art installations and a lunchtime concert series to lower manhattan. the art will be on view from 5/10 to 6/21, while the concerts will take place weekly on wednesdays at 12pm, beginning on 5/17. two locations: cortland way and 200 water street, free. >>
weds thru 6/3: 30th new york african film festival: new york african film festival returns with over 50 films from more than 25 countries exploring african and diaspora storytelling. film at lincoln center (uws), maysles documentary center (harlem), and brooklyn academy of music (fort greene). various prices. >>
weds thru 5/18 (wednesdays + thursdays. 6-7pm dance lesson, 7-8:30pm band): bryant park dance parties: salsa, swing, and tango the night away at bryant park's annual dance party series. an instructor will teach the basic steps before the band hits the stage, so all experience levels are welcome. this week: andean afro-cumbia extravaganza with afro-andean funk (weds) and swing dance: the american cultural experience with charenee wade's band of swing (thurs). free admission. >>
weds thru 5/16: live nation selling $25 'all-in' tickets to 3,800+ shows: get tix to see the get up kids, beck / phoenix, boy george + culture club, counting crows, elvis costello + the imposters, garbage, noel gallagher's high flying birds, janet jackson, ll cool j, the offspring, seal, the smashing pumpkins, snoop dogg, weezer, wu-tang clan, nas, and more for just $25 (plus fees, we suppose) during live nation's ticket promotion. since this is a national promotion, show dates and locations will vary. >>
weds thru sat: pen america world voices festival: founded in 2004 by salman rushdie, michael roberts, and esther allen, pen america presents the 18th annual world voices literary festival. this year's fest features 100 writers from 27 countries, including ayad akhtar, reza aslan, jelani cobb, roxane gay, han kang, masha gessen, marlon james, padma lakshmi, min jin lee, ottessa moshfegh, ben okri, imani perry, sarah polley, amor towles, and many others, as well as an indie lit fair. various locations and prices. >>
weds 8am-9pm: free admission day at fotografiska: amazon music is offering free admission all day to fotografiska (flatiron), which is currently featuring the exhibition, hip-hop: conscious, unconscious. bonus: $1 for each visitor will be donated to the universal hip-hop museum in the bronx. >>
sponsored: weds 7pm: selected shorts: mcsweeney's 25th anniversary extravaganza: the wondrous and imaginative world of mcsweeney's quarterly concern takes the stage for a singular selected shorts celebration. for one night only, the best of this deeply surprising and unusual magazine comes to life with performances by actors, friends, and fans. hosted by john hodgman and featuring musical guest stephin merritt from the magnetic fields, with performances by maeve higgins (wait, wait … don't tell me!), jordan klepper (the daily show), carmen lynch (life + beth), and bd wong (awkwafina is nora from queens). skint readers can get a $15 ticket with promo code 'extra' (service charge applies). >>
weds 7pm: bomb magazine spring isse reading: bomb celebrates its spring 2023 issue with a release event featuring readings by nicky gonzalez, jim shepard, pamela sneed, and alejandro varela, followed by a cocktail party with prosecco, beer, and spring concoctions at powerhouse arena (dumbo). free admission. >>
weds 7pm (monthly): fantastic fiction: the speculative-fiction reading series at kgb bar (east village), hosted by editor ellen datlow and writer matthew kressel, welcomes paul tremblay (the pallbearer's club, the cabin at the end of the world) and john langan (copsemouth and other autobiographies). free admission. >>
weds 7:30pm: neighborhood darlings: join host and titular darling, michael abber, for a standup show featuring jo firestone, richard perez, julia shiplett, ibhan kulkarni, and maggie olmsted at club cumming (east village). $12 adv, $15 day of. >>
weds 7:30pm (weekly): we have fun: a stand-up show: hosts zach sims and dan wilbur bring the fun-ny to young ethel's (park slope), with stand-up by django gold (colbert), jordan doll (comedy central), nicole conlan (the daily show), kim dinaro (fallon), and eli yudin (what a time). free admission. >>
weds 8pm: drink 'n draft: creative writing workshop: stuck in your writing? leave your laptop at home for book club's handwriting workshop, with guided prompts to help get the creative juices flowing. book club bookstore and wine bar (east village), $20 admission includes $8 off any drink. >>
weds 8pm (monthly): punderdome: pun-masters have a war of the words at tonight's 12th(!) anniversary edition of the beloved pun-slinging competition, hosted by fred firestone. littlefield (gowanus), $12 adv, $15 day-of. >>
weds 8pm (weekly): ambush comedy show – with free beer: josh johnson, lucas connolly, and brittany cardwell serve up slices of standup at two boots pizza (williamsburg), where they'll be joined by dan st. germain (comedy central), rob cantrell (comedy central), krystyna hutchinson (comedy central), cassandra dee (sirius xm), and django gold (colbert). bonus: free beer from 7:30-8pm. free admission (rsvp to enter the pizza raffle). >>
weds 8pm (weekly): savage! a comedy show: lizzie martinez and melissa rocha's stand-up show comes roaring back with sets by napoleon emil (comedy central), kate sisk (vulture), jaffer khan (cbs), claire alexaner (drule comedy), danette rodriguez, and mateo hurtado. bonus: rsvp for a chance to win free drinks. logan's run (park slope), free admission. >>
weds 8pm: paige siegwardt sings amy winehouse: paige siegwardt (loser's lounge, the standard) performs a set of amy winehouse songs at sid gold's request room (chelsea), followed by piano karaoke with joe mcginty. free admission. >>
weds 9pm: what's the worst that could happen?: comedians will riff on anonymous audience-submitted glassdoor reviews before launching into their sets at the latest iteration of will purpura and ilana rubin's comedy show. young ethel's (park slope), free. >>
thursday
thurs thru november (closed mondays): torch + crown beer garden in union square: torch + crown brewing company opens up a beer garden at the union square pavilion for your seasonal outdoor drinking and eating pleasure. >>
thurs thru 7/21: yayoi kusama: i spend each day embracing flowers: david zwirner gallery hosts an exhibition of works by japanese artist yayoi kusama that will feature a new infinity mirrored room, new paintings, and new sculptures elaborating on her signature motifs of pumpkins and flowers. opening reception 5/11 6-8pm. note: due to the anticipated popularity of this exhibition, expect lines. david zwirner gallery in chelsea (519, 525, + 533 west 19th st), free (rsvp). >>
thurs thru mon: 35th annual columbia university film festival: 43 films from columbia university's film mfa program will be screened in-person at lenfest center for the arts (west harlem), film at lincoln center (uws), and online, free-$12. >>
thurs thru sun: 23rd annual new york indian film festival: america's oldest and largest indian film festival returns for four days with 35 narrative, documentary, and short films. village east by angelika and sva theatre, various prices. >>
thurs (various times): free outdoor movies (weather permitting):
creed at courtney callender playground (harlem) >>
everything everywhere all at once at 50 kent pop-up park in bushwick inlet park (williamsburg) >>
thurs 4-10pm: (second thursdays thru october): uptown night market: the annual open-air cuisine and culture fest returns for a third season to under the arches at 12th avenue and west 133th street (west harlem) with 60+ local vendors. free admission (pay-as-you-go). >>
thurs 7pm: asian american film thing: asian american filmmakers take the spotlight during an evening of narrative fiction, docs, animations, music videos, sketches, q+as, live musical performances, and more. hosted by angel yau and pratima mani. caveat (les), $10 with promo code 'aaft' (reg. $15 adv, $20 door) >>
thurs 8pm (weekly): laf dance saloon: jeffrey emerson and jill weiner save the best for laughs at the laf dance saloon comedy show, returning with an evening of standup by jilberto soto (mariposas comedy), menuhin hart (comedy central), mia faith hammond (chris gethard presents), cherryann trinidad (the apollo), erin maguire (gotham comedy live), and mark benjamin. the backyard of ba'sik (williamsburg), free admission. >>
thurs 9pm (monthly): comedy ugly: a comedy strip show: comedians reveal more than just punchlines at comedy ugly, a standup show where performers remove an article of clothing between jokes. hosted by alysia hush and marisa riley. easy lover (east williamsburg), free. >>
thurs 11pm: dirty thursday: rihanna: oh baby!: the dirty thursday dance party at house of yes celebrates rihanna's 'upcoming release.' house of yes (bushwick), free before midnight with rsvp, $10-15 without. >>
ongoing
our roundup of 40+ ongoing events and attractions: art exhibitions, ticket deals, and more. >>
stay safe and healthy
– the skint